"

You can't use up Creativity. The more you use, the more you have"" - Maya Angelou
Skills and Tools
Mezurashii Media is produced using various apps to suite the narrative, as well as the Adobe Pro series.
Video is shot using an up to date iPhone/Android as well as a Nikon DSLR Camera.
Music is produced using Logic Pro series with a varied selection of plug ins for maximum quality.
Content consists of:
Video editing/Production, Songwriting/Production, Podcasting, Blogging, Copyrighting, Web Design, Live Streaming.
Marketing Tools: SEO, Email sequencing, Google Ads, Facebook Ads, Google Analytics, Facebook Analytics, Instagram and Tik Tok Insights.
Qualifications include:
Degree in Law, Degree in Music Technology (both completed at the University of Hertfordshire), Assistant Store Manager Development Progreamme, Advanced Diploma in Digital Marketing (One Education), Life Coaching (New Skills Academy).
                                                                           The Learning Never Stops.
Creativity just is! Its how you use it to engage
I live and breathe creativity. from the arts to problem solving, with creative instict, its possible to unlock doors that many may struggle with. In football, or sports, that player than can see a pass and elequently execute, in cooking, that Chef that can take basic ingredients and create a delicious meal or snack, in Art, the Artist that can illustrate a piece of work with tools given, in music, one who is capable of playing a number of instruments by ear, songwrite, produce. A videographer that can create visual content with a simple camera.
    For years, i wondered around not aware of the creativity i could unlock, but once aware i came alive and i'm enjoying it so much! In what is a difficult lifetime, with the pandemic, creativity is more important than ever. With many people restricted, in need of stimulation, motivation and all round inspiration, we need fresh ideas. I deas that people can relate to, and this is my speciality.
    Over the past few years, i have gained experience in creating promotional videos, making the music and visual content myself, and work very well following guidelines or just thinking outside the box if required.
Here is some of my work!!
Please get in touch if you require any services. If you havent seen anything here that you like, send me a message, tell me what your vision is and together we can create a work of art :)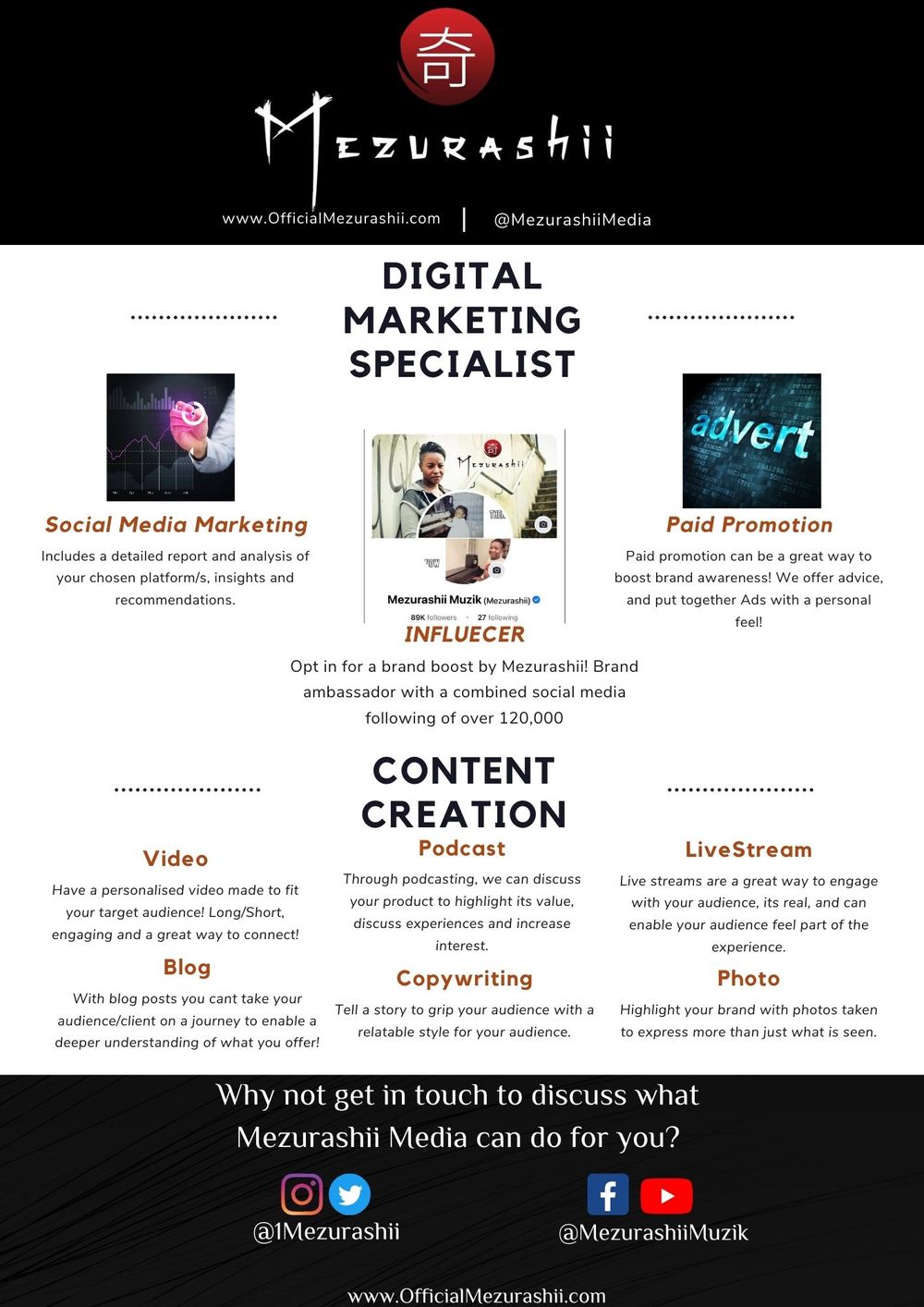 Video Reels for brand promotion
Video reels are an effective way to promote your brand/business!! Tell te story of your product/service using video/photo and audio to boost the experience for your customers/fans. Having studied psyco and demographics, I can now create content specific to your audience to make them part of your experience, engaging them withyour brand to increase awareness!
Business and Influencer reels on Instagram